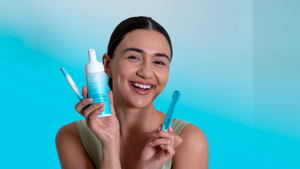 Say Bye To
ITCHY, DRY, PUFFY EYES

Soothing eye area skincare & lash care products
Ophthalmologist developed and patented
Shop Now
because your eyes say it all
Long lashes, bright eyes & healthy under eyes - It's what you want. But it's hard to have flawless eyes. Because everyday stress – like allergens and screens - clog your lash line oil glands.
Most skincare routines don't consider the lash line oil glands. But when you neglect them, your under-eye area becomes puffy and dark, your eyes become sensitive to makeup, and your lashes won't grow.
Meet You & Eye by Dr. Nicky. Our products contain our patented, ophthalmologist developed EyeMEDIx complex. It's a system that combines ayurvedic ingredients like turmeric and neem oil with peptides like oligopeptide-10 and verbascoside that keeps the lash line oil glands healthy. So you can have long lashes, radiant eyes and healthy under eye area skin.
DISCOVER THE SCIENCE
Our clinically proven results are powered by Dr. Nicky's EyeMEDIx Complex. Dr. Nicky spent 5 years researching, clinically testing and consulting with top cosmetic scientists to develop this exclusive technology.
Learn More
Feel Radiant And Energized
When our eyes feel dry and look tired, it can be difficult to face the world with confidence. We believe no one should suffer from irritated eyes.
Accessible Technology
We're on a mission. To give you hydrated, radiant eyes using patented high-end skincare products without breaking your budget because we believe no one should suffer from irritated, screen-stressed eyes
Science-Based
We put the work in, conducting advanced research to ensure our products are truly effective, so you won't worry about buying another product that doesn't work and just sits on your bathroom shelf
Healthy Lashes
Our products keep lash line oil glands healthy, which is key to beautiful lashes. Inflamed oil glands can cause lash loss, makeup intolerance and itchy eyes. Using our products will help with that.
★★★★★

Before trying this serum (Lids, Love and Lash Serum) my eyes would feel tired and dry most days after work. I figured it was the dry air mixed with working on a computer. I never thought there was a way to fix it. After trying this serum I've hardly itched my eyes and they look smoother and brighter. My eyes don't feel tired and I've been sleeping better, too

Francesca P.
★★★★★

This cleanser is AMAZING. I work in healthcare and have to wear a mask 8+ hours a day which makes me break out. Once I started using this product, I no longer had this issue. My face cleared up within days! It looks and feels so much better! I love it!!

Gabby M.
★★★★★

I used the Soothe Operator Rollerball under my eyes, and I loved it! It made my skin feel smoother and tighter, which improved the texture of my skin. I have slight under eye bags, and it got rid of the puffiness. It rolled smoothly and felt nice and cool on my skin. I love this product and would recommend it to my friends and family!

Daniella E
★★★★★

Having extremely sensitive skin I'm always worried about trying new skincare products, but this foaming cleanser was super gentle and hydrating for my skin. It cleared my complexion and prevented build up. A small pump is all you need! It's my favorite product and the only cleanser I use! 100/10!

Cindy B
★★★★★

This lash serum has been a lifesaver! I accidentally ripped out most of my lashes with an eyelash curler, they were so short I couldn't even put mascara on them. Since my lashes are slow to grow, I was feeling self-conscious. After using this serum for just 2 weeks my lashes grew long and thick. They look better than ever. This product is truly more effective than any other lash product I've tried

Kennia G
★★★★★

Best cleanser for sensitive skin ever!!! And you can truly use it for your entire face including your eyes. Removes eye makeup, flaky skin around eye lids without causing any irritation. It completely cleanses your face. It's a must in my daily routine. It's even lash extension friendly.

Sam G.
★★★★★

I've suffered from allergies my whole life and I get a lot of irritation in my eyes, flaky skin and even inflammation on my eye lids. The Lids, Love and Lash Serum has relieved all those symptoms and has given me strong lashes for when I want to put eye makeup on or even lash extensions. No more itchy, flaky skin and yes to healthy lashes!

Sam G.
★★★★★

The skin under eye eyes and on my eyelids had been looking puffy and wrinkly. I hated how they looked in photos and wishes they would shrink. When I started using the Soothe Operator Rollerball Serum my eyes looked smoother and the puffiness is gone! My overall complexion and skin looks better because my eyes are brighter.

Francesca P.
DON'T FORGET YOUR eyes
We all want hydrated, radiant & healthy eyes. But our eyes take a lot of stress from - screens, allergens, even not completely removing makeup. Itchy, dry, puffy eyes leads to:
Premature Aging
Over time irritation can break down the very little collagen and elastin we have in our eye area skin leading to fine lines and wrinkles.
Lash Loss
When the lash line oil glands are clogged from irritations, this causes our lashes to break, fall out or grow at slower rates.
Makeup Intolerance
When the lash line oil glands are clogged, our eyes become sensitive and itchy to our favorite eye makeup